I've been a fan of Riverdale since near the beginning. (Well, okay, I wasn't 100% sold until they ended the gross Archie/Mrs. Grundy affair plot from the first few episodes, but I loved everything that didn't involve that storyline.) While some reviewers have balked at some of the more over-the-top aspects of the show — like Betty stripping to "Mad World" of all songs in front of a crowd that included her mother — this is exactly what I watch the show for. And, thankfully, Riverdale Season 3 did not disappoint.
Fair warning: There will be spoilers for last night's episode. But you probably figured that already.
But oh, wow, where to begin? Probably the same place the episode does: Archie's (KJ Apa) awaiting to find out if he's going to be found guilty of the murder Hiram Lodge (Mark Consuelos) is framing him for. One of the foremost themes of the series is that Archie is perhaps the dumbest person on the planet, and this keeps the thread. Dude shows up for a court hearing in a tux and he's being defended by his mother (Molly Ringwald). Uh, conflict of interest much? And even when he's given the out of a hung jury, which at least bodes well for his case — he makes the dumbest choice ever: accepts the plea deal to go to juvie for 2 years. (Admittedly, this seems a little light for a friggin' murder, even one Archie didn't commit, but at least they weren't trying him as an adult I guess?) Oh, Archie, never change.
Aside from Archie, it's looking like Riverdale Season 3 is setting up a Sabrina crossover; though in August, the creators said a crossover wouldn't happen, well, Dennis was said not to be returning for It's Always Sunny in Philadelphia and look how that turned out. The delightfully unhinged Alice Cooper (Madchen Amick) is joining a cult which may or may not have magical powers. Yeah, they made babies fly over fire, but is that a side-effect of Betty's (Lili Reinhart) illicit Adderall use? (By the way, Betty's been forging an Adderall prescription.)
And if that weren't enough, Jughead (Cole Sprouse) might find himself caught up in a D&D-inspired death cult that's already claimed Dilton Doiley (Major Curda) and Ben (Moses Thiessen). No idea whether or not they'll actually kill them off — Midge bit the big one after all — but they're in a bad place.
An aside: I didn't recognize him, but Ben's been in the background of the series since Season 1, when he worked at the drive-in. I legitimately don't know if he has an Archie Comics counterpart, though given the various deep cuts sprinkled throughout the series so far — Riverdale is the town with "Pep!" founded in 1941; Archie first appeared in Pep in 1941 — I imagine he's somewhere deep in Archie lore. Looking at the Wikipedia page on Archie characters, the most likely candidate is Benn Feebly, of the Feebly Twins. This Benn was an identical twin with Glenn Feebly, who both played the bass fiddle. The identical twin thing is prime fodder for a teen soap like Riverdale, but they've also gone to that well before with Cliff and Claudius Blossom (Barclay Hope).
But if I have to boil down why I'm so excited for Riverdale Season 3 into one image it's, obviously, Cheryl Blossom (Madelaine Petsch) as an arrow-wielding superhero. I did not know I needed that in my life, but I so do.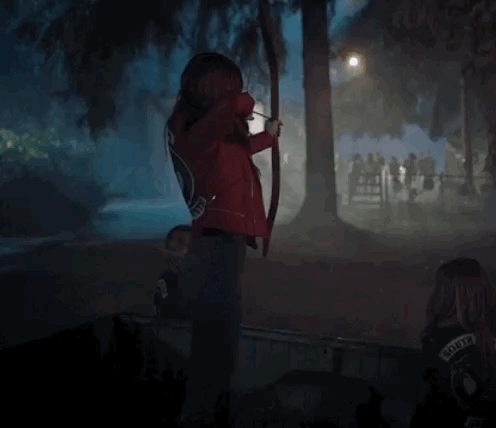 Kittysneezes is supported by readers like you. If you enjoy what you've read here, please consider supporting us on Patreon.